Two weekend ago I exhibited at LEGO KidsFest Chicago. I had a big monitor playing NNN videos, lots of sets and characters from previous animations, and New Block City being invaded by the Pinchbots.


I also had my new animating studio set up and did animation for the next episode while people watched! It was great to be able to directly show people what goes on behind the scenes.


It was also nice to be able to get work done on the next animation while also interacting with with fans. I spent Friday afternoon and Saturday morning building the conveyor belt, factory wall and random industrial doodads to add some visual interest. Then Saturday afternoon I started animating and continued all day Sunday. Here's a sneak peak at a clip I made while there.

This was done with a Logitech QuickCam 9000 and the Helium Frog Animator and I am very pleased with how it turned out. I am not 100% satisfied with the pictures quality on the QuickCam, but it will have to do for the time being. I am excited to finally be animating using animation software; It make things much easier. I'm hoping to have this episode released by 11/29, but at the very latest it should be out by 12/5.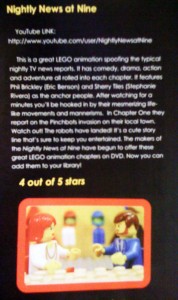 I don't how many of you have heard about Beckett Build magazine, the first issue was just released. It has interviews with famous LEGO builders, cool fan creations, a price guide, and other similar articles. It also has a 2 page spread about LEGO related animations on YouTube and the Nightly News at Nine is one of the six videos featured! My favorite parts of the review are "It has comedy, drama action and adventure all rolled into each chapter" and "after watching for a minutes you'll be hooked in by their mesmerizing life-like movements and mannerisms." I'm honored that the series was included and hope it leads to more fans discovering the series. If you recently discovered NNN (at KidsFest, through Beckett Build or otherwise) welcome to the site! We're glad you're here.